Dressing Your Age-- What Does that Mean Anymore?
I am one of those people who forgets how old I really am sometimes.

I think I'm stuck somewhere in my late 20's and admittedly sometimes like to dress like I'm still in my 20's too. Not by shopping in the juniors department, but I love to wear clothes with feminine touches, and I love to wear a lot of color and trendy jewelry sometimes. I wonder sometimes if I should revamp my whole style and give up those things that I love because I really fall into the 30-something age range.
After doing some researching and thinking on the subject, it seems that anymore fashion rules are made for both following and breaking. I think we can thank our beautiful friends in Hollywood for that! With diet and exercise (and of course a few nip-tucks here and there) many people are looking so much younger than they really are, allowing them to get away with dressing younger for longer. But since not all of us can look quite as awesome as our celebrity friends (remember that is their job to look great), it's probably good to have a few rules to follow (or break if you want). Ultimately though here is what it boils down to-- wear what makes you feel great and what you feel most confident in! Wear what you LOVE!!!
With that being said, there are no hard and fast RULES, but here are a few tips that will help you look great at any age:
1)Wear clothes that fit well despite the size. Don't demand to squeeze into an 8 if a 10 fits better. Sizes vary from store to store and clothes that are too tight can make you look heavier (think muffin top.)
2) Don't adopt a trend if it doesn't work for your body style. The skinny jeans trend was so tempting for me, however I have bigger calves and that style of jeans just doesn't look good on me, so I don't wear them.
3) Don't forgoe style for comfort. Let's not look like we're going to the gym all the time.
4) The older you get, the better quality fabric and make of the piece should be.
And here are some "rules" for each age range as well. Feel free to break them as you wish:
20's:

In your 20's, anything goes. It's about personal style, lots of color, very high heels and hemlines. You can wear flirty, feminine styles as well as edgier pairings.

Try to avoid nude pantyhose and pants with pleats.

Lots of jewelry is great—from long necklaces to bangles.
30's: It's time to get a little more serious with fashion-forward styles while keeping

a polished look. Start looking for better quality pieces in your 30's and make investments in pieces that stand the test of time. Forget trends that don't work with your body type. Throw in a few trendy pieces here and there.
Style icon Sienna Miller is in her 30's!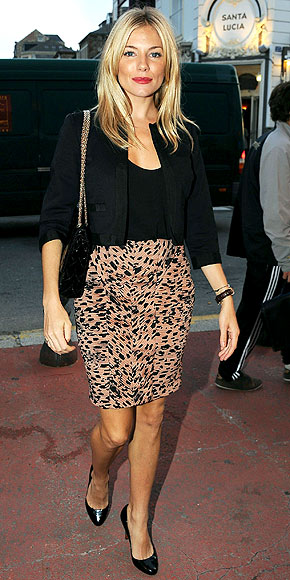 I love this outfit, and Sienna Miller's style. She is one of my absolute favorites!
40's: Stick with classic silhouettes and colors but add interesting embellishments, vibrant colors and patterns. Avoid ruffles and bows, eyelet tops, as well as matronly-looking pastel separates and shapeless suits.

You can forget the old rule of keeping the hemline below the knee after 40. If you feel comfortable in it, go for it and if you are in good shape, you can wear almost anything. Again, let your confidence be your guide.
Style icon Jennifer Aniston is in her 40's!
50's: Tailoring and structure are important. Stick to clean lines in a simple palette.

Statement pieces like a chunky necklace or signature cuff go further in your 50's than a strand of pearls for instance. Monochromatic outfits are great, smart-looking choices that make a statement too. Don't go overboard with the casual outfits—keep them current.
Style icon Sharon Stone is in her 50's!
60's: Traditional pieces should keep you looking elegant. Black, white and red make bold statements and

tweed suits, trousers and coatdresses are great items to have. Splurge on fur-trimmed items or brocade.

Throw on a wrap for evening if you aren't happy with the tone of your arms and show some leg if you want to.