The holidays are so fun for dressing up and getting glamorous. Take some time to try one or more of these looks this holiday and get your Hollywood glamour on. We say DO try this at home!
This is just a classic, pretty look that Hayden Panetierre wore to a holiday party herself. This look photographs well too-- here's how to do it!
1.
Exfoliate skin, moisturize and apply foundation to even skin tone.
2.
Use a brow pencil to fill in brows.
3.
Line upper and lower lash lines and inner rims with black liner, smudging the corners a little. Apply two coats of black mascara and apply false lashes if desired.
4.
Apply a dab of cream or gel blush on the apples of your cheeks, and then apply a light bronzer from apples of checks up to hairline along cheekbone. Using a big brush, apply bronzer on forehead, nose and chin.
5.
Line lips with a bright red lip pencil and fill in. Coat with a matching lipstick that has a sheen or a gloss.
How awesome are her eyes? This would be really cool for New Year's! Here's how to achieve this look:
1.
Prime the eyelid with concealer and add a layer of loose, matte powder.
2.
Blend a powder eye shadow over eyelid in a shade which matches the glitter.
3.
Apply eye shadow under the eye and blend along lower lashes. Add black liner pencil across the to and bottom lash lines and along upper and lower rims.
4.
Add two coats of black mascara.
5.
Dip a flat brush in glitter glue and press over eyelid avoiding lash line.(There are eye shadows that are just loose glitter and then you can pick up the glue separately. Also there are kits.)
6.
Pick up glitter using the same brush and continue adding until you reach the intensity desired.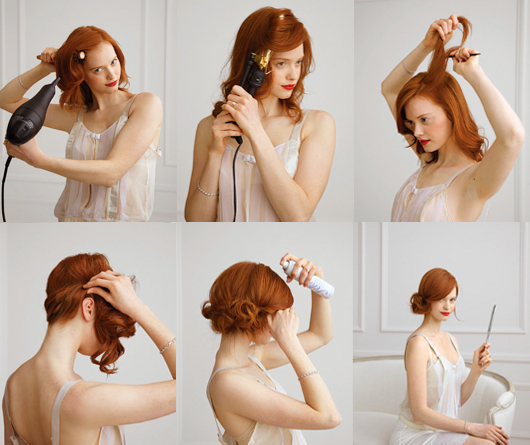 I love this look, although you need to have pretty long hair to pull it off. The side chignon is a lot easier to do yourself than it looks. This model is so pretty with her red hair too. Jealous!
1.
Blow-dry hair smooth and straight, using a round brush.
2.
Once dry, use a large-barrel curling iron to create waves from the ears down.
3.
Spritz the roots near the crown and then tease to give height.
4.
Gather hair into a low ponytail and twist it along the nape of your neck, pinning as you go.
5.
When you reach your ear, form the ends into curls and pin them back over the twist. Hairspray.
This is the half-up/half down look that really reminds me of Brigitte Bardot. Here's how to achieve this very classic and beautiful look:
1.
Create loose curls all around your head using a large-barrel curling iron, from the ears down.
2.
Separate the curls with your fingers, and then part your hair down the middle.
3.
Spritz roots with hairspray, continuing to the crown. Then tease.
4.
Smooth over just the top layer to create a smooth appearance while maintaining the height.
5. Secure top half of hair in a clip or ponytail and push it up a little (This maintains the height on top.)Pin in place, hiding the bobby pins underneath if possible.