What is it about the new year that makes us want to get things organized top to bottom?

My theory is that the Christmas decorations, empty boxes and piles of presents sitting around the house start to get to us…a lot!

I say take advantage of this urge to de-clutter and get things organized because obviously having an organized home goes hand-in-hand with time management, and ultimately success and happiness in life.
In my quest to get myself more organized this year, I have compiled a list of tips to help with some key areas that have big effects on our time including home organization and cleaning; meal preparation; and morning beauty routines.

I hope you find them useful!
GET YOUR HOME ORGANIZED- 15 minutes goes a long way!
1.
Set a timer for 15 minutes per room, clean as hard as you can and move onto the next room. Clean and organize this way for an hour twice a week if you can.
2.
Once a week, go around your house and find 10 items to either throw away, give away or sell on ebay and put them in a designated box for each category.
If you clean for an hour twice a week using the 15 minute rule (total of 2 hours per week) plus continue to get rid of 10 things per week, you will notice a huge difference in your house. The reason this method works is because it forces you to work as fast as you can which saves time and because you have to move on to another room after 15 minutes, so your whole house gets attention.

There is a book with a really weird name called "Sink Reflections" where this idea came from and the author, who calls herself "The Fly Lady" (also really weird) has a lot of awesome tips for getting your whole life organized!
MEALS- Make 3 dinners at once and save tons of time!
1.
At the beginning of the week make a "meal plan" based on what your loved ones want to eat and then supplement with a recipe or two from your cookbook. Then shop for everything at once if possible.
2.
Make 3 dinners at once (eat one that night and freeze two to use over the next few weeks).

Just pick out your favorite casserole and triple the recipe. Lasagne, enchiladas, shells and cheese all freeze really well and taste great! Make things even easier by buying aluminum pans that you can recycle and then you don't have any dishes! Imagine if you cooked this way twice a week for a while—you'd have an awesome stockpile in your freezer of healthy and yummy dinner choices.
STREAMLINE YOUR MORNING ROUTINE- Time Saving Beauty Tips and More...
1.
Set your phone timer for 12 minutes while you shower (and actually get out when it goes off).
2.
Get your makeup and haircare products organized so that they are ready to go in the order you need them. You don't need to be racing around looking for things in the morning.
3.
Pick out your clothes the night before and iron them. (Then don't change your mind in the morning unless you have to!) Even better, put together a whole week's worth of outfits and write them down if you need to so you have a plan for every day. List shoes, accessories, bags, etc...
4.
Wash your hair at night, put in a little leave-in conditioner and let it air-dry (saving your locks from daily hair drying damage). In the morning use your curling iron to add waves and then smooth the bangs and hair around the face with a flat iron. Or, pull hair up for a really quick and polished look.
A great leave in conditer to try.
5.
If you do blow dry your hair, consider an ionic blow dryer, which speeds drying time considerably. Also, there are new products that claim to reduce drying time by 50% as well as reduce friction/protect the hair while drying. KMS free shape quick dry blow dry spray and Redken Satinwear Blowdry Lotion are two to try.
Ionic Hair Dryer
Alright, this is a little old-fashioned -- it's a hair bonnet hair dryer. If you have long hair, you could roll towel-dried hair
on velcro rollers and then put this bonnet on-- it dries your hair hands-free. Since you don't have to hold the dryer you can save time and put your makeup on or catch up on emails, or whatever!
6.
For an easy and pretty look for your face, use
an exfoliater

to remove dry skin and then apply moisturizer (with sunscreen— yes even in the winter!)

There are also some great tinted moisturizers with SPF too, that give your skin just a little coverage, but lots of moisture. Using a concealer or crème foundation that is a perfect match, go over red spots or blemishes and blend. This gives you a pretty, fresh complexion without the look of caked-on foundation over your whole face which can make you look older (plus it takes longer). Use a clear mascara to brush brows in place. For eyes, do two coats of mascara (I like Lancome Definicils and Bad Gal by Benefit) and then put on a dab of lipstick and you're ready! If you like to wear eyeshadow and blush there are products out there that work as both and are very flattering

for a work-day look.
Huge time-saver that gives your skin a healthy glow while protecting it from the sun-- tinted moisturizer with SPF!


BAD gal by Benefit is an awesome mascara!

7.
For nails, try either no polish or a light pink or clear. Then use a clear top coat so that if it chips, you can't see the chip. If you paint your nails and need to leave in a hurry, try putting them in a bowl of ice water to get them to dry fast.

Also, a great time to take care of your cuticles is in the bath or right after the bath. Avocado oil is awesome for softening cuticles and there are cuticle removers that work really well too. Get an orange stick and gently push cuticles back after you apply avocado oil.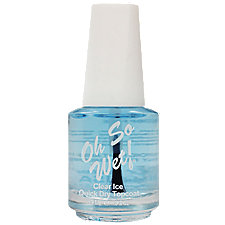 A good clear top coat won't show as much if it chips.
8.
Make your lunch and your kids' lunches the night before. No explanation needed here.
9.
Pack up your briefcase or whatever you need for your day before you go to bed.
10.
Fill your coffee pot before you go to bed so that it's ready to brew with the flip of a switch.
OTHER

MISCELLANEOUS THOUGHTS ON SAVING TIME AND GETTING ORGANIZED:
1.
Try to
CHECK EMAIL ONLY TWICE A DAY. You would be surprised at how much time is spent looking at email. Set up spam filters and block the ones that get through to save time in the future.
2.
Take 20 minutes each morning to plan your day (or the night before- even better!) Group like activities together, such as errand running to the same part of town. Structure your day for balance by scheduling specific times for work, home and play and then stick to them. Don't let the conveniences of technology sabotage your precious time with family either -- put away the iphone and laptop and hang out with the people who matter the most! (This is hard to do I know!)
3.
Make your "to-do" list accomplishable-- stick to 2 to 3 big things per day if you can. If you must list out everything that you can think of (I like to write it all down and then accomplish everything by week's end) highlight or star the 2 or 3 big things each day that you can reasonably expect to get done.
4.
Schedule time to slow down. Slowing down actually makes time seem to slow down. Schedule a couple of 15 minute breaks throughout your day to go for a walk or listen to a meditation or even take a nap!

Take care of yourself and keep things in balance.
5.
Use a DVR. Don't let a program's scheduled time dictate when you have to watch it. Plus, watch it faster by skipping the commercials.
6. Last but not least, schedule your exercise early. I am talking about early, as in before the rest of the family gets up. Jump on your treadmill or go for a jog outside. There really is no better feeling than having your workout done before your day starts. Plus it saves time, because you only get ready/shower once.
Happy New Year everyone! Hope you enjoyed this!
https://www.amazon.com/gp/product/0553382179/ref=as_li_qf_sp_asin_il_tl?ie=UTF8&tag=prettyintheci-20&camp=1789&creative=9325&linkCode=as2&creativeASIN=0553382179&linkId=ce4d81b970696cc07474f3e4db8b0782